CAFÉ KITSUNÉ VERTBOIS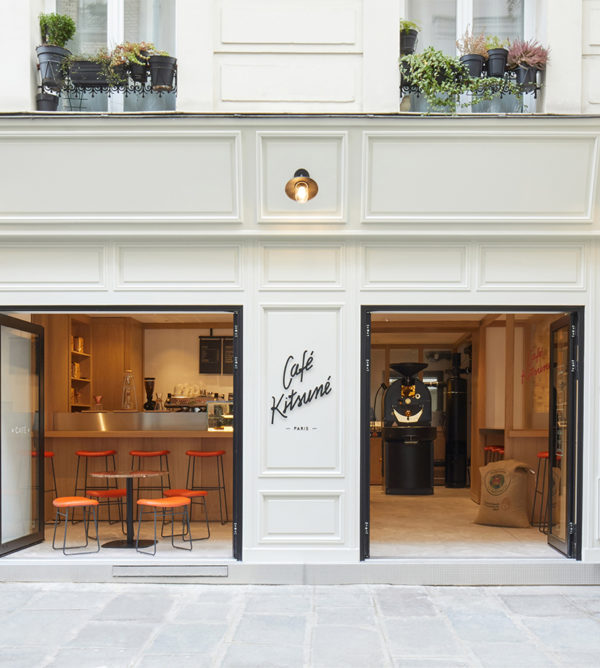 CAFÉ KITSUNÉ VERTBOIS
CAFÉ-ROASTERY
OPENING OF THE FIRST ROASTERY IN PARIS
AN INVITATION TO TRAVEL…
THE ART OF COFFEE, FROM BEAN TO CUP
This is a story of love and sharing. How a mutual passion for coffee led Kitsuné's founders, Gildas Loaëc and Masaya Kuroki, to establish Café Kitsuné in 2013. Bespoke blends, experienced baristas, chic and convivial venues around the world: the reflection of a unique art de vivre, mixing elegance, music and coffee.
It's just a short step from passion to high standards… And Café Kitsuné soon wanted to master every stage of the process, from sourcing the bean right through to the degustation. In the context of this global vision – both qualitative and sustainable – a roastery was initially opened in Japan in Okayama. Today, Café Kitsuné Vertbois is inaugurating its first roastery in Europe with this new address adding another dimension to the delight of enjoying specialty coffee in Paris.
A PLACE DEDICATED TO THE COFFEE EXPERIENCE
Café Kitsuné Vertbois is first and foremost a production site with a roastery run by the artisan roaster Florian Decousser. Freshly roasted coffee beans and ground coffees are available in the shop or online, alongside the collection of Café Kitsuné tableware: cups, saucers, mugs and tumblers… The Café Kitsuné in the rue du Vertbois is also a destination for degustation, with all of Café Kitsuné's classic specialities available to be enjoyed in situ or to take away: espresso, macchiato, americano, dirty chai, cappuccino, cortado, flat white, mochaccino along with teas, pastries, juices and ice cream. Finally, it's a place for sharing coffee culture with thematic workshops organised every Saturday.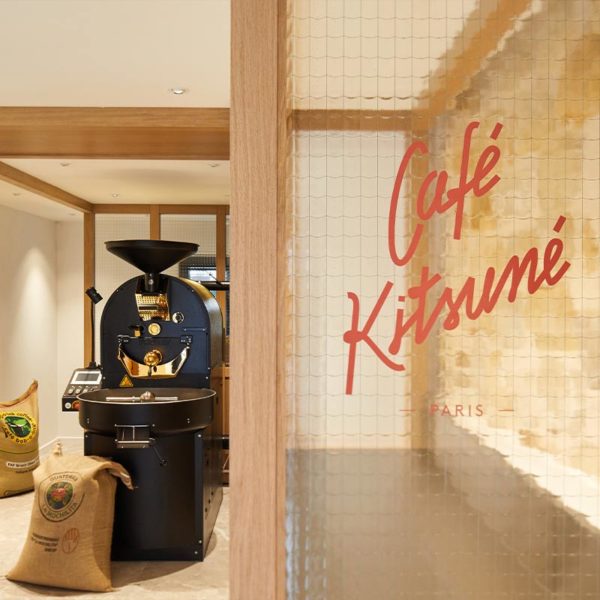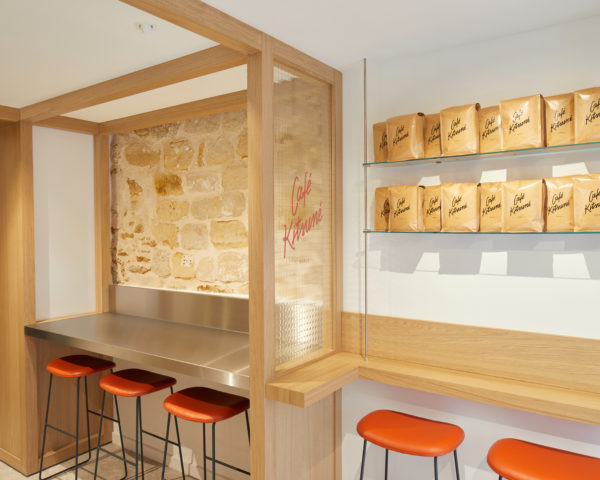 A WORKSHOP FOR THE SENSES
From the mysteries of roasting to the ritual of preparation and the degustation…Café Kitsuné Vertbois has devised a whole new coffee experience, one for all the senses.
The layout of the space expresses this triple vocation of roasting, preparation and tasting. Restored rough stone walls, oak panels in a nod to Japanese architecture… Behind the Italian-style counter in brushed stainless steel with its elegant stools covered in tawny leather, the steel and hammered brass curves of the majestic roaster really catch the eye. The artistan roaster of Café Kitsuné Vertbois knows every subtlety in the book. An expert in espresso but also in slow coffee methods, he will guide you on an initiatory journey to discover the secrets of coffee according to Kitsuné.
"Roasting consists of extracting the aromas from the green coffee beans by a specific cooking process, in order to obtain the desired aromatic profile. It's a recipe, just like baking, adjusted according to the type of beans and the method of coffee preparation chosen. The freshness of the roasting process adds this exceptional value" – Florian Decousser, Café Kitsuné Artisan roaster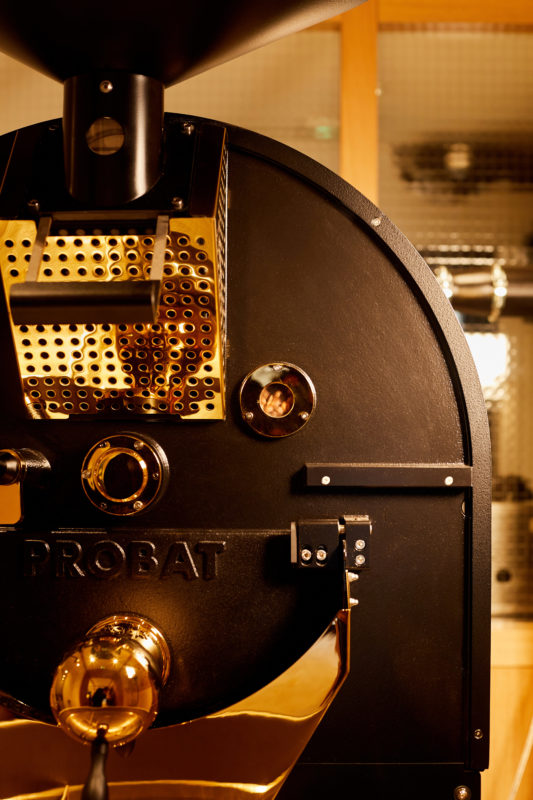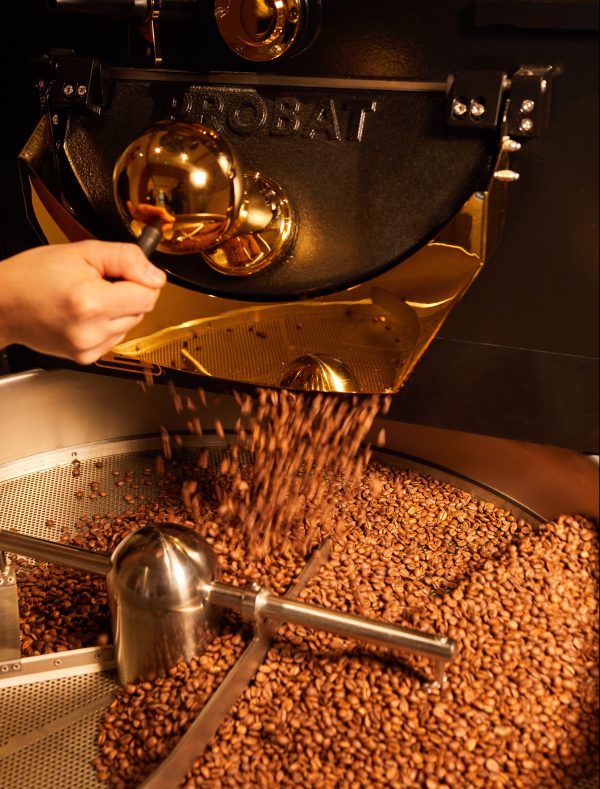 THE CAFÉ KITSUNÉ FLAVOUR
As Florian Decousser explains, each coffee has its own style, and those at Café Kitsuné are distinguished by a delicate balance: both savoury and full-bodied, with hints of chocolate and honey, a dash of peach, and a special long finish, thanks to a texture that is both soft and syrupy. It is this unique flavour that Café Kitsuné devotees will now be able to take home, with coffees freshly roasted every week. Roasting control guarantees a consistent quality over time. The artisan roaster has selected two types of specialty coffee beans to create the Café Kitsuné signature blend:
– Mococa from Brazil, which has a full body, a very chocolaty and spicy aromatic profile for a truly gourmet sensation.
– La Libertad from Guatemala which is very fruity and intense, growing at high altitude. Its creamy texture reveals lively notes of lemon bergamot, especially when prepared using slow coffee methods.
A LONG-TERM COMMITMENT TO PRODUCERS
Mastering the entire chain is all part of a sustainable partnership with local producers. The beans have been selected with the help of an independent family business that specialises in the sourcing of traceable and sustainable coffees. Café Kitsuné is committed to a long-term approach with these farms producing the beans.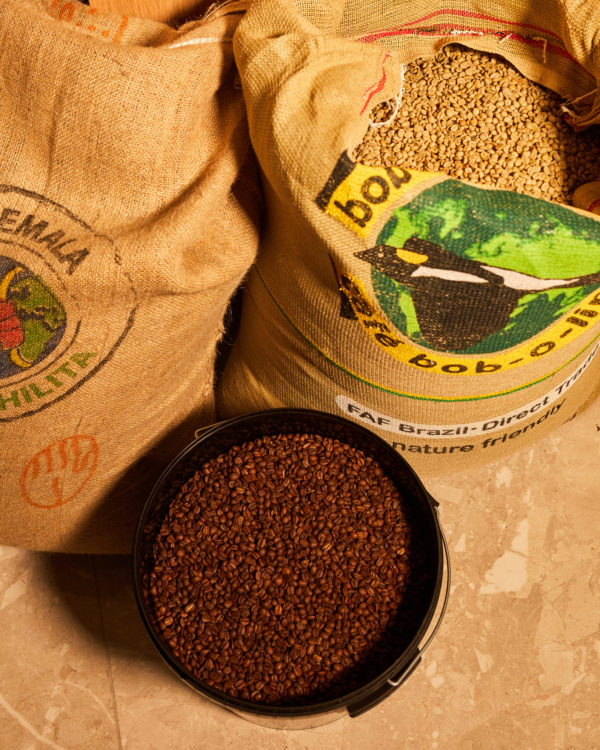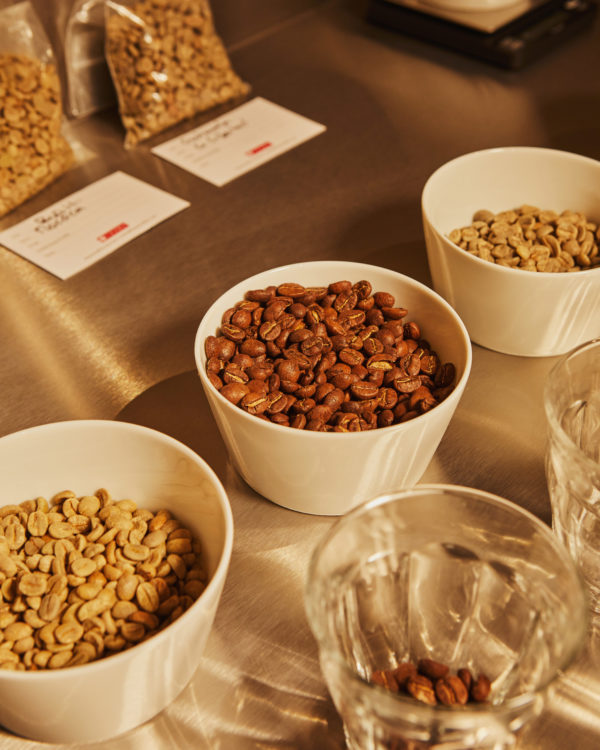 SLOW COFFEE METHODS, A DIFFERENT APPROACH TO COFFEE
An expert in speciality coffees, Café Kitsuné Vertbois honours the manual extraction methods, which are more confidential than the espresso. They require a particular savoir-faire all while offering delicious results, thanks to  slow coffee methods that give a lively, highly aromatic coffee with the V60, a floral and fragrant coffee with the Chemex, and a deliciously full-bodied coffee with the Aeropress.
Exclusively available at Café Kitsuné Vertbois.
CULTURE OF COFFEE… AND SHARING
Just like the art of tea, the art of coffee should be accessible to everyone. Café Kitsuné Vertbois is therefore also a place for transmitting and sharing the culture of coffee. An entire programme of themed workshops has been planned from April onwards, with the health situation permitting. The perfect opportunity to learn about the art of "cupping", the barista's savoir-faire, from gentle extraction methods to making a perfect espresso, alongside the artisan roaster Florian Decousser.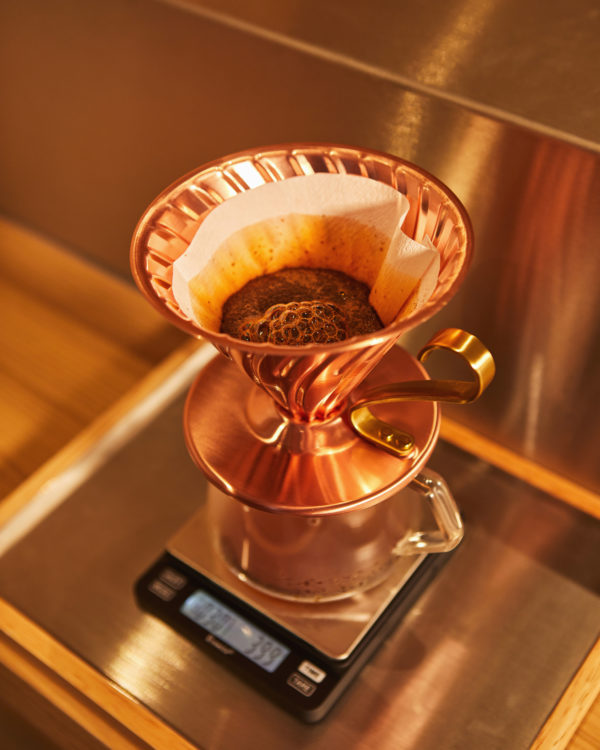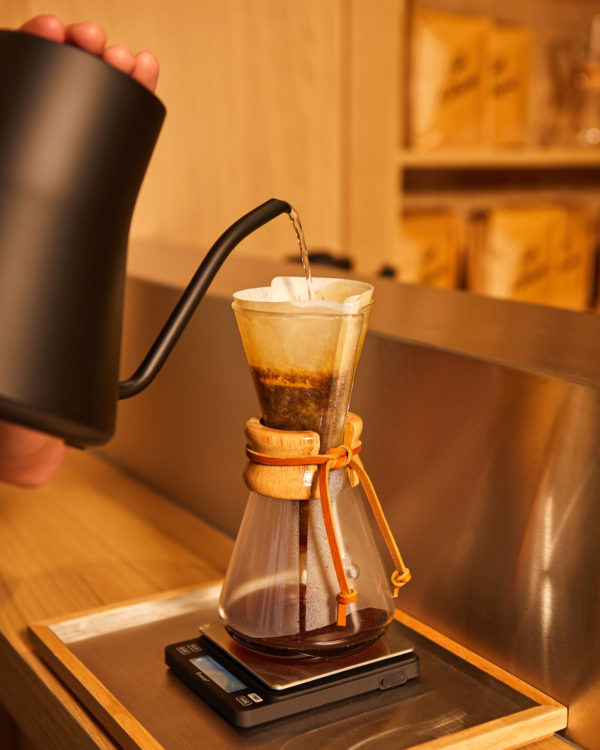 CAFÉ KITSUNÉ VERTBOIS
Café-Roastery
30 rue du Vertbois – 75003 Paris
Tuesday-Sunday : 9.30am-1pm / 1.45-5pm