CAFÉ KITSUNÉ LOUVRE
PATISSERIE CHEFS IN RESIDENCE
For the reopening, on January 7th 2022, of its upstairs space (67 seats in addition to the 10 on the ground floor), Café Kitsuné Louvre is launching a new concept dedicated to everyone who loves fine patisseries, in collaboration with promising young talents and recognised names. Each month, new creations by a guest patisserie chef in residence will enrich the menu of Café Kitsuné.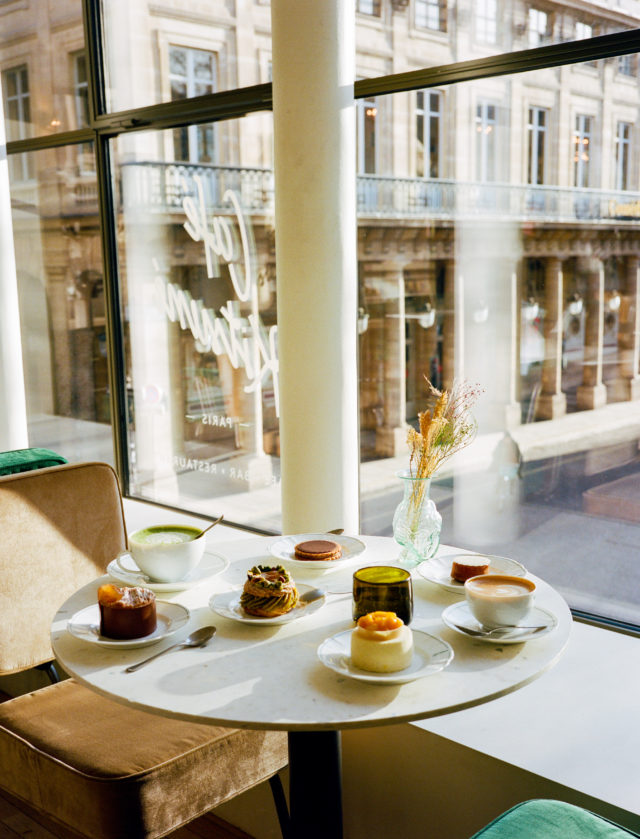 CAFÉ KITSUNÉ LOUVRE
AUTEUR PATISSERIES
The first guest is Kevin Lacote, a pâtissier with a remarkable career. The young chef, already distinguished by several awards, will be offering a selection of his cult desserts to be enjoyed on the plate: a Mont-Blanc with blueberry confit and Swiss meringue, the Alfonso, a vanilla cheesecake revisited with tangy mango confit and coconut crumble and a Paris-Brest with Iranian pistachios – a creation available exclusively at Café Kitsuné Louvre. In terms of on-the-go cakes, Kevin Lacote was inspired by the house classics, with a hazelnut and praline shortbread with "Café Kitsuné" coffee and an almond and yuzu confit fondant cake. Two exclusive recipes that pay tribute to the emblematic flavours of the Café Kitsuné drinks.
The creations from chefs Philippe Conticini, Johanna Roques, Hélène Deguen and Aurélien Cohen, will follow on Café Kitsuné's Louvre menu.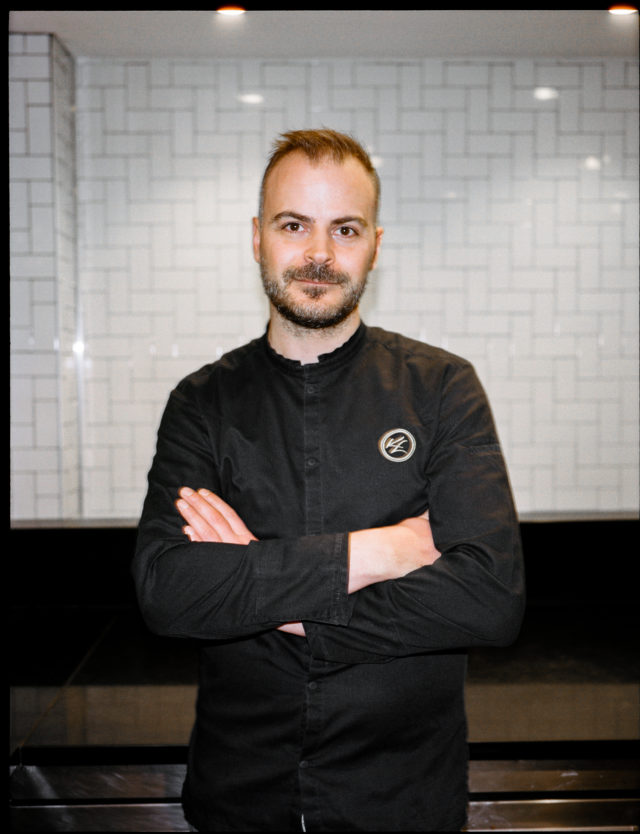 DESSERT BAR
This special event menu is in addition to the delicacies available at all the Café Kitsuné: lemon cake, fruit financier, brownie, cookies, for the on-the-go cake menu. The Café Kitsuné Louvre selection of desserts includes the Pol Sésame with black sesame nougatine, lemon mousse and cream, miso caramel, the creamy hazelnut and coconut Dacquoise, the vanilla-pecan tart, the Genmaïcha flan and the pistachio tart. Delicacies to be enjoyed with Café Kitsuné's signature drinks, specialty coffees and teas, black, green, chai and matcha.
ABOUT CAFÉ KITSUNÉ
Specialty coffee experts, Café Kitsuné pays tribute to the pleasure of enjoying high quality coffee in iconic locations. Founded in 2013, Café Kitsuné brings together a collection of 18 locations around the world, from Tokyo, Paris and Seoul to New York and Beijing. The label has become cult for an international community of specialty coffee lovers. In 2019, Café Kitsuné expanded its activities with roasting workshops, bars and restaurants.
"We're proud to showcase a new generation of pâtissiers alongside renowned chefs through this eclectic collaboration programme. From working with textures and combining flavours to designing shapes and playing with volumes, patisserie is an art of wonder and exactitude that finds its natural playground at Café Kitsuné." – Café Kitsuné
Café Kitsuné Louvre
2 Place André Malraux
75001 Paris
01.40.15.99.65
Monday / Sunday: 9am – 6:30pm