Café Kitsuné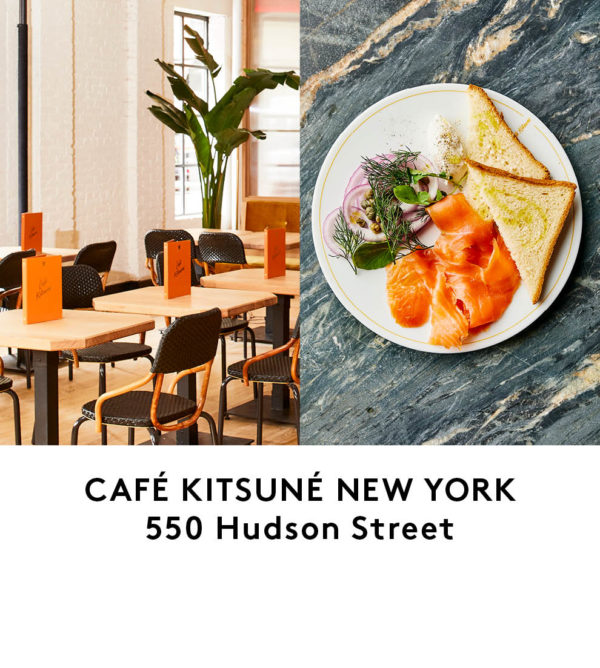 The Café Kitsuné Collection
Five years after its creation, Café Kitsuné is now launching its first collection of tableware, ready-to-wear and accessories.
Collection available at Café Kitsuné, Maison Kitsuné boutiques and online.
DISCOVER THE COLLECTION
Ready-to-wear and Accessories
For the ready-to-wear and accessories, hoodies, sweatshirts, t-shirts, caps, a tote bag and its mini version, an iPhone case, keyrings and ballpoint pens come in a latte or black colorway and proudly display the Café Kitsuné Paris logo.
Tableware
For tableware, white ceramic crockery, « Picardie » water glasses by Duralex and tumblers make up a simple and refined collection.
The limited edition collaborations
CAFÉ KITSUNÉ X MARIN MONTAGUT
Café Kitsuné and Marin Montagut are pleased to present their glassware collection inspired by the Royal Palace Garden – Café Kitsuné. Each creation has been handmade, hand-painted and mouth-blown with recycled glass.
CAFÉ KITSUNÉ X LE CHOCOLAT DES FRANÇAIS
Café Kitsuné teamed up with French chocolate brand Le chocolat des Français for a gourmet collaboration, 100% handcrafted and made in France.
Available exclusively at Café Kitsuné Paris and Tokyo.
CAFÉ KITSUNÉ X GILLES MARCHAL
The French pastry chef Gilles Marchal created a new version of the iconic fox-shaped shortbread. Made with love in his atelier located in Montmartre (Paris), these fox-shaped shortbreads remind the sweet memories of childhood. Light and savory, they can be enjoyed throughout the day with a cup of coffee or any other drinks. An exclusive delicacy for Café Kitsuné.
Available exclusively at Café Kitsuné Paris.
CAFÉ KITSUNÉ X ALIX D. REYNIS PLATE
Café Kitsuné has called upon the designer Alix D. Reynis as well as the illustrator Marc Martin for the creation of a plate in Limoges porcelain, entirely hand crafted in France.
CAFÉ KITSUNÉ X ASTIER DE VILLATTE CUP
Astier de Villatte has reinterpreted the Café Kitsuné cardboard cup used for take-away coffees, in an artisanal ceramic version, both playful and refined, over which the fox struts and cavorts.
Available exclusively at Café Kitsuné Paris, Maison Kitsuné Paris boutiques and online.
SHOP THE LIMITED EDITION COLLABORATIONS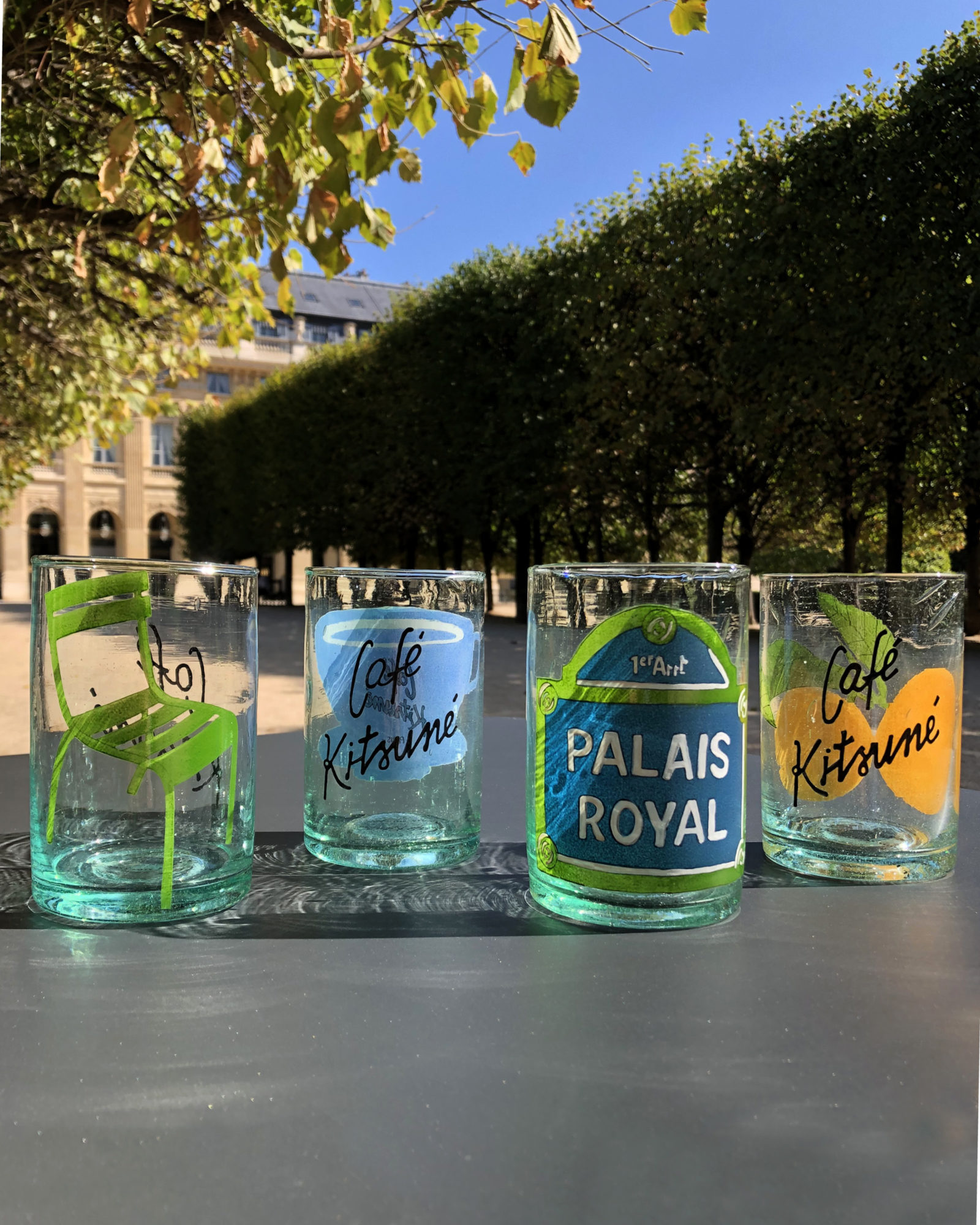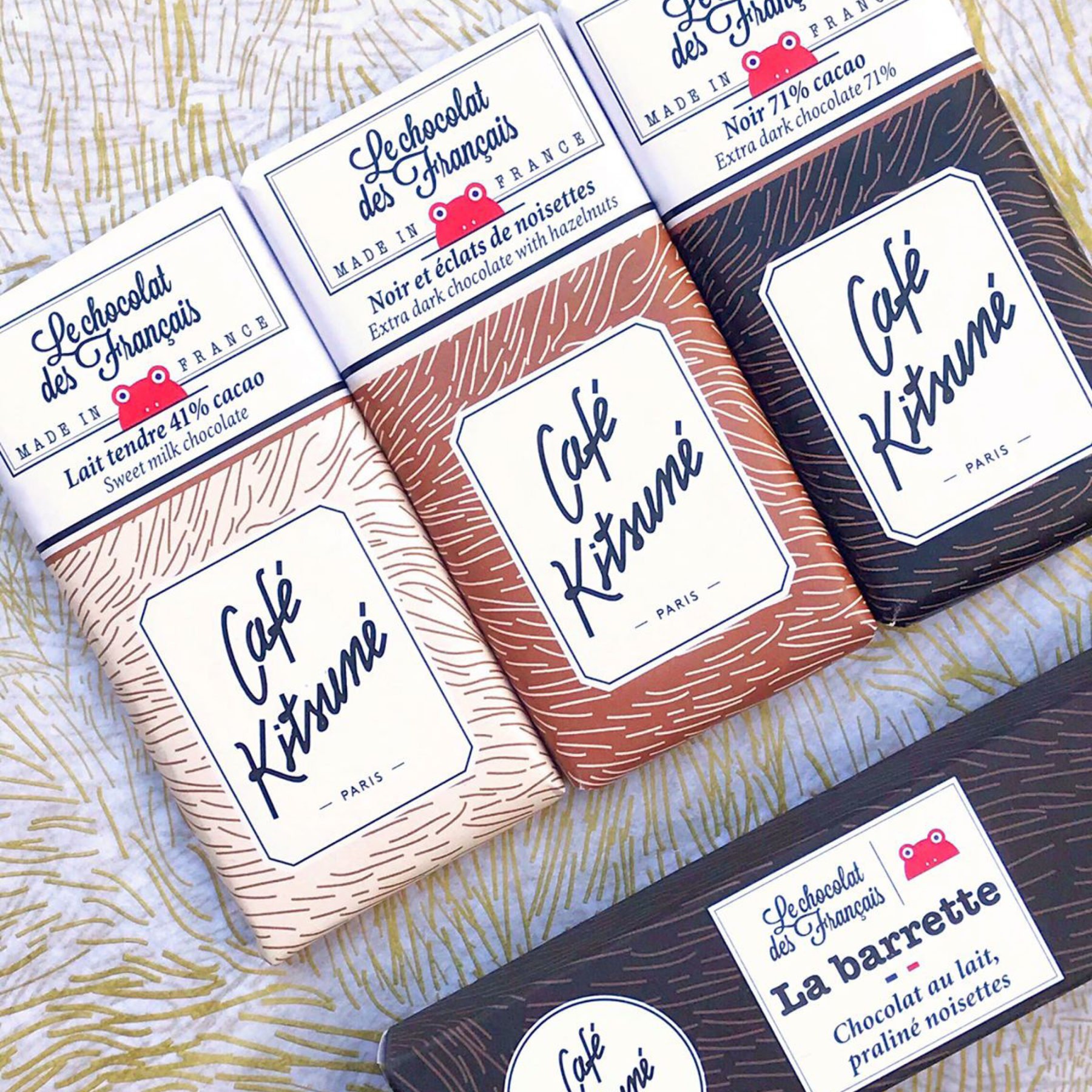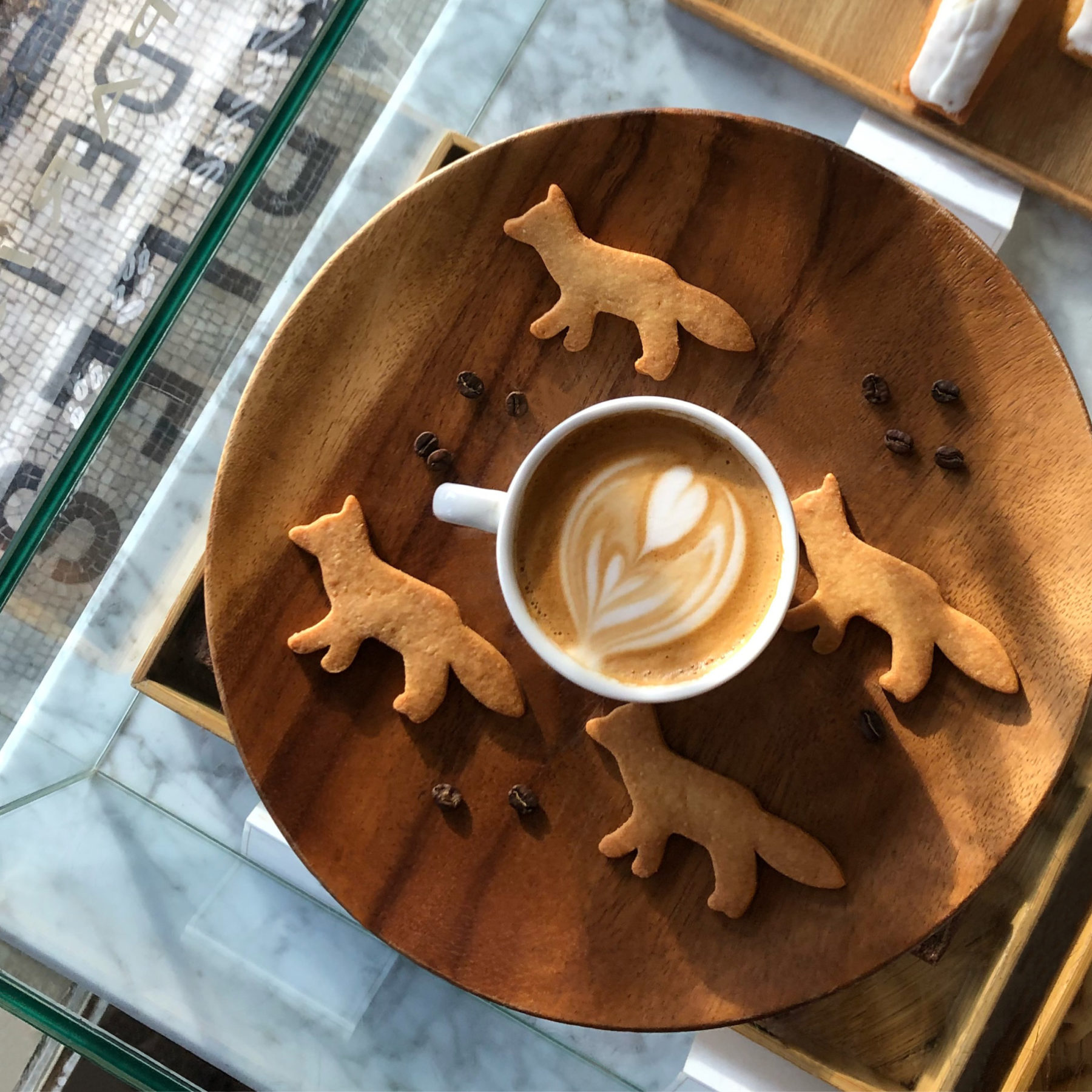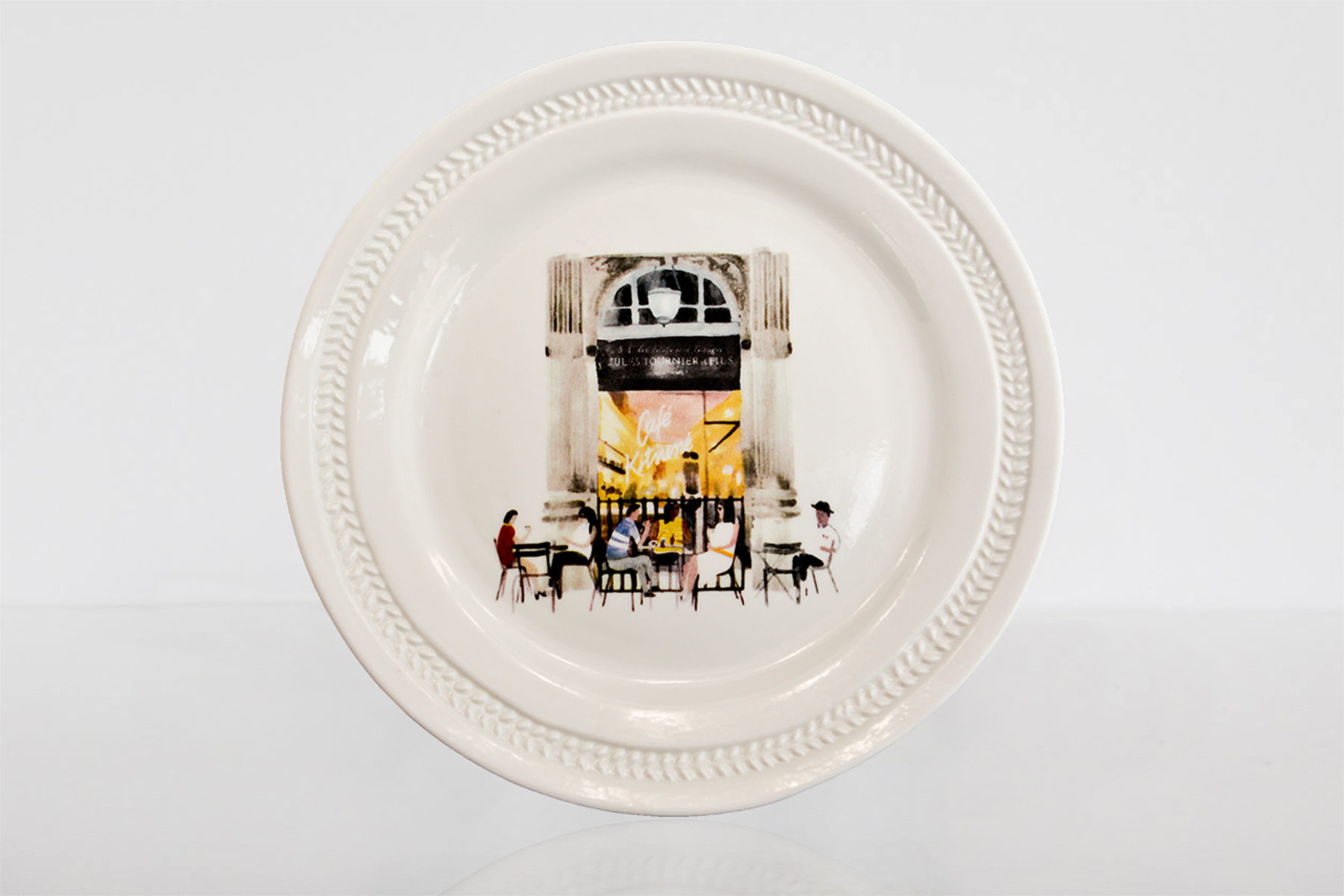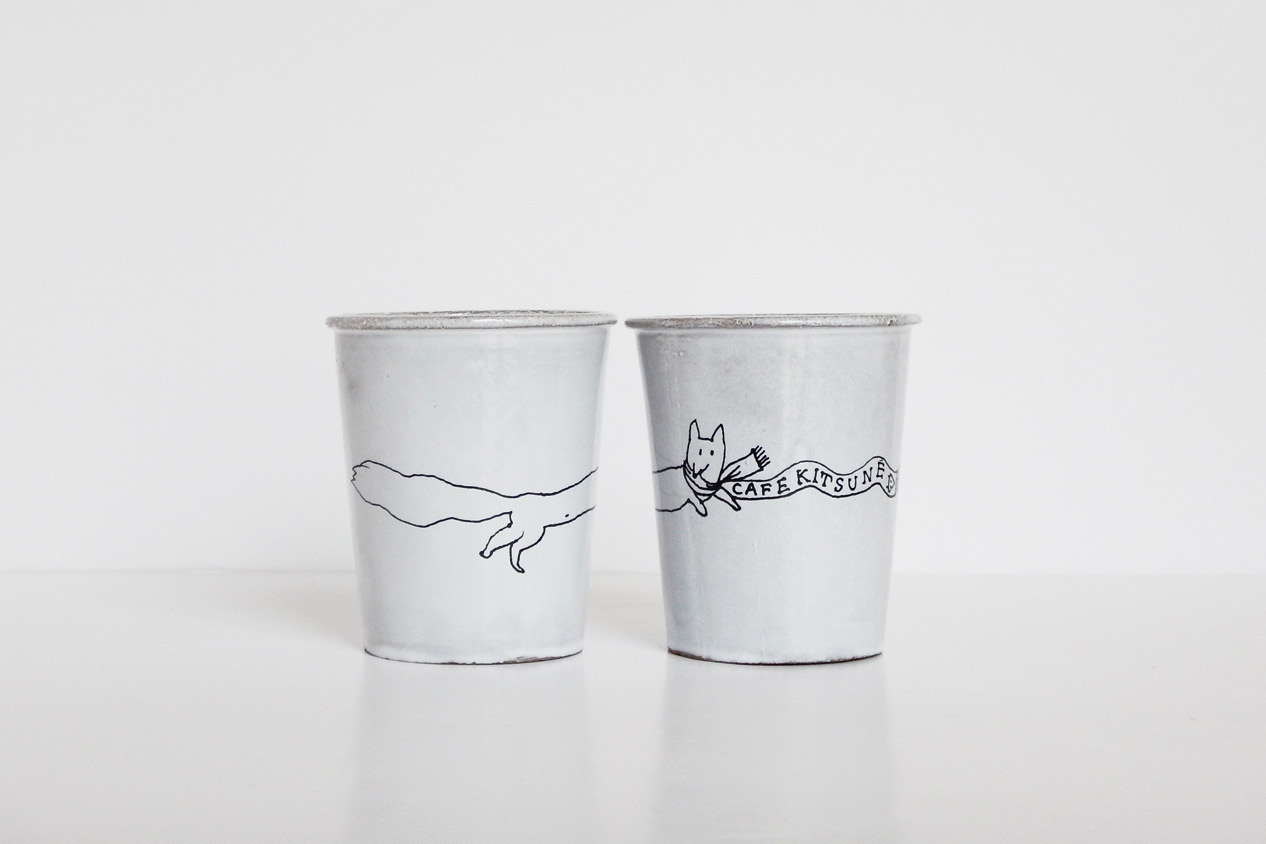 The Art of Coffee by Café Kitsuné
The concept behind Café Kitsuné is to create and operate a space that marries the simplistic beauty of the small and intimate coffee bars with the style and cool of everything that Café Kitsuné undertakes.
Café Kitsuné pays tribute to the pleasure of enjoying a quality coffee in locations that are both modern, cosmopolitan and welcoming.
The coffee served at the Café Kitsuné is full-bodied and flavoursome, with notes of chocolate and grilled hazelnuts, and a texture that is both
smooth and syrupy, lingering on the pale>e.It can be enjoyed in situ or as a take-away and comes as an espresso, macchiato, americano, latte, cappuccino, dirty chai, cortado, at white or mochaccino.
From South America, the coffee beans are roasted with the utmost care.
For those who can't live without it, the Café Kitsuné coffee beans are available to buy in packets of 100g, 250g and 1kg… an ideal gie for friends or oneself!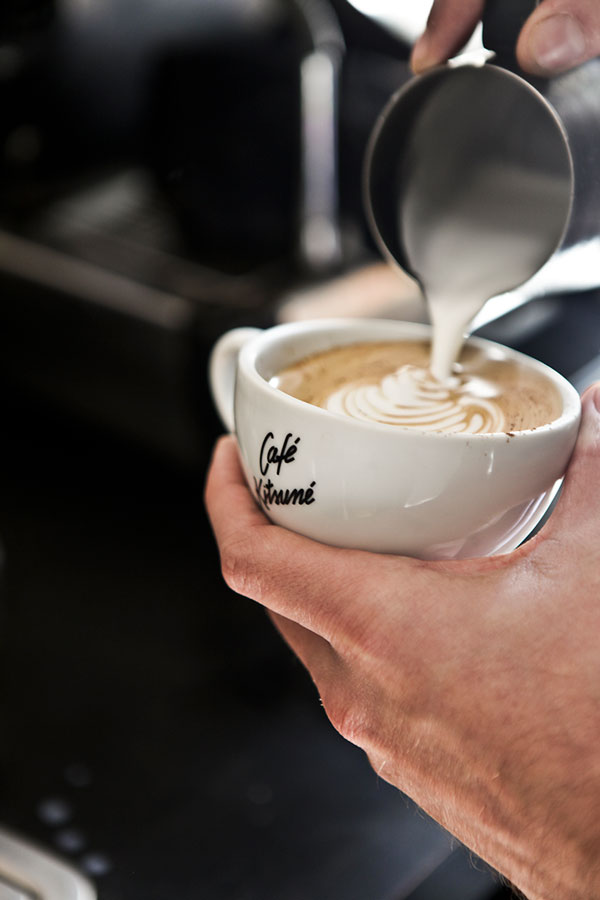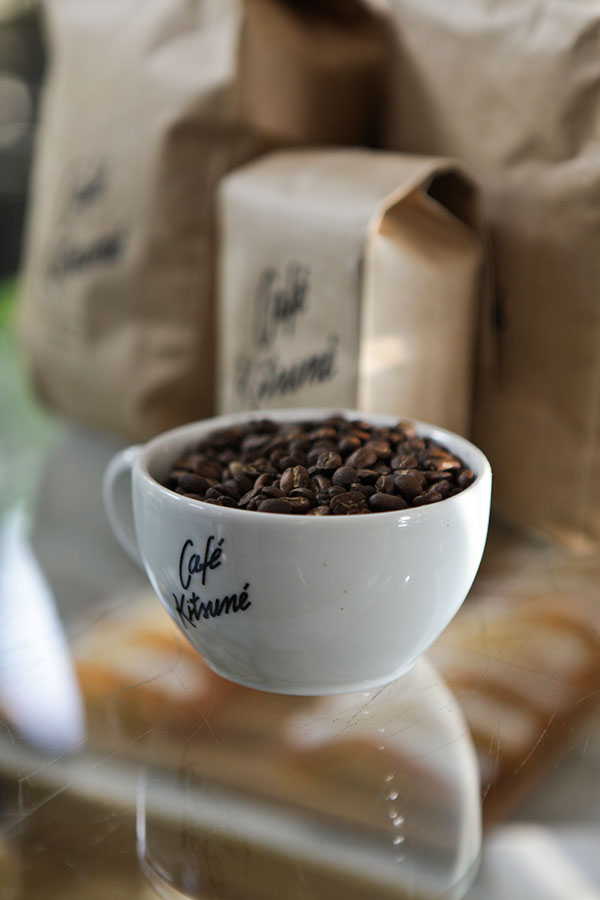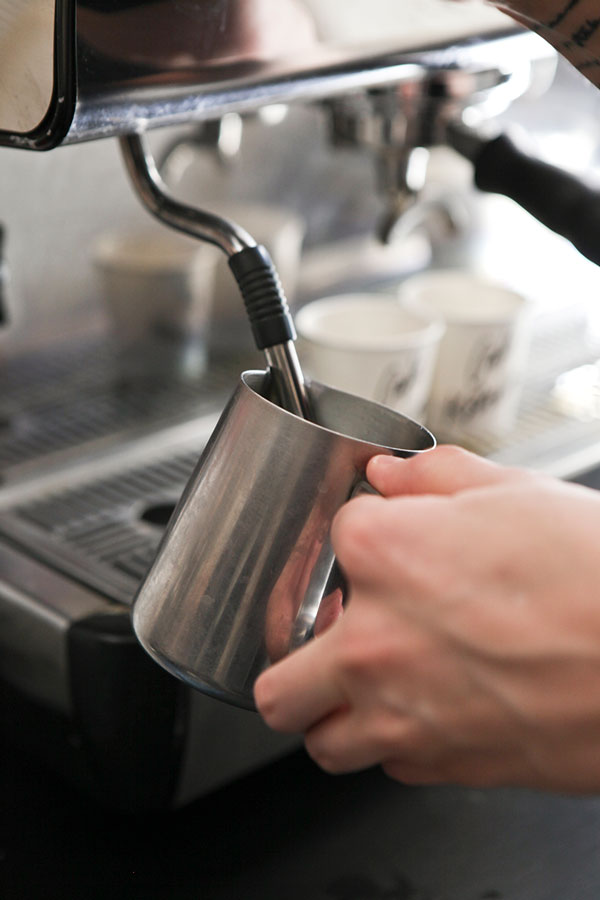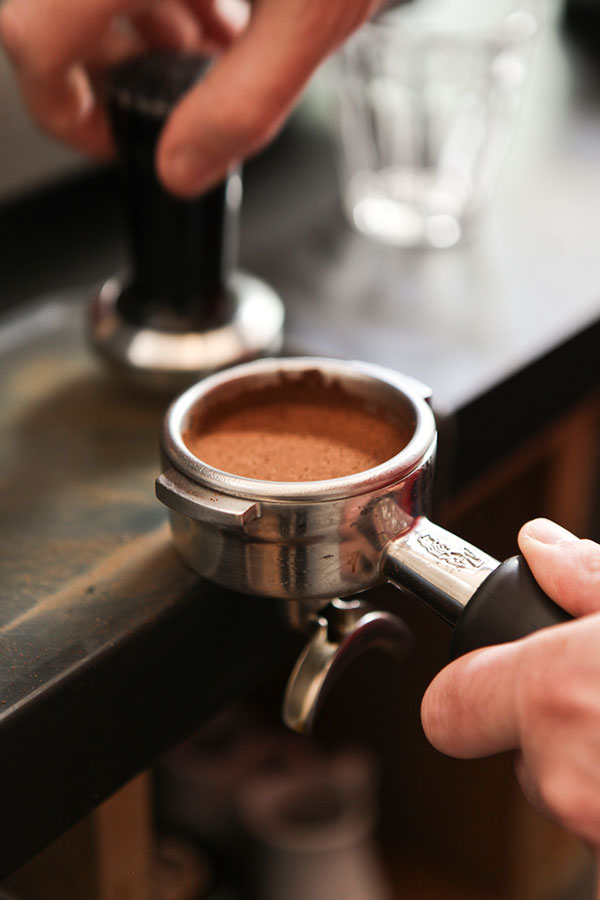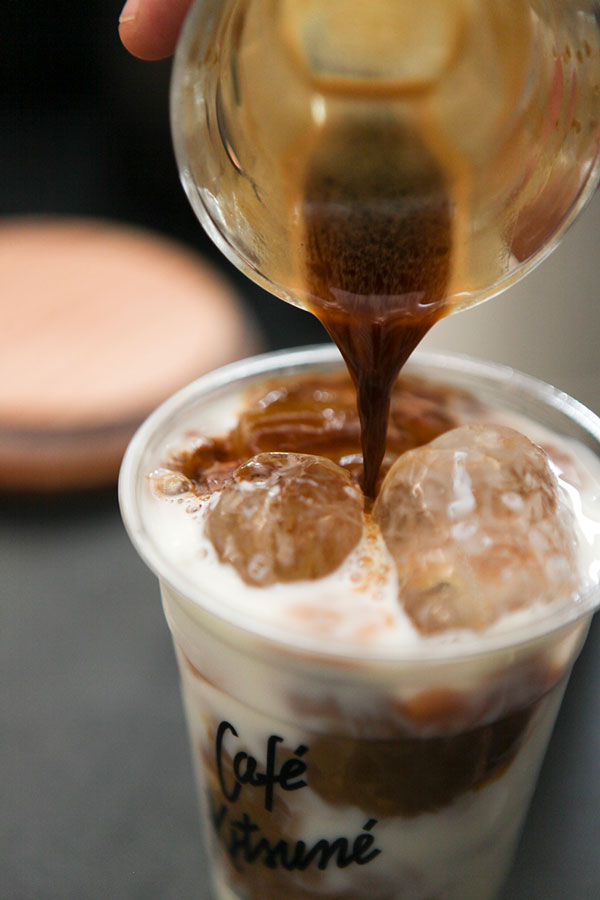 Since the opening of the first cafés, our main concern at Café Kitsuné has been to serve the freshest and tastiest coffee. With the opening of our very own roastery in Okayama's district of Izushi, we are now able to watch every step of the coffee roasting process to ensure quality and flavor consistency.
In collaboration with Aroma Coffee Roastery's owner Kazuya Watanabe, we have created a truly unique Café Kitsuné blend, using beans from South America. The Café Kitsuné coffee beans roasted at Okayama will also be available in our café in Tokyo and throughout Asia in the near future.
A second roastery is planned to open in Paris in December 2020.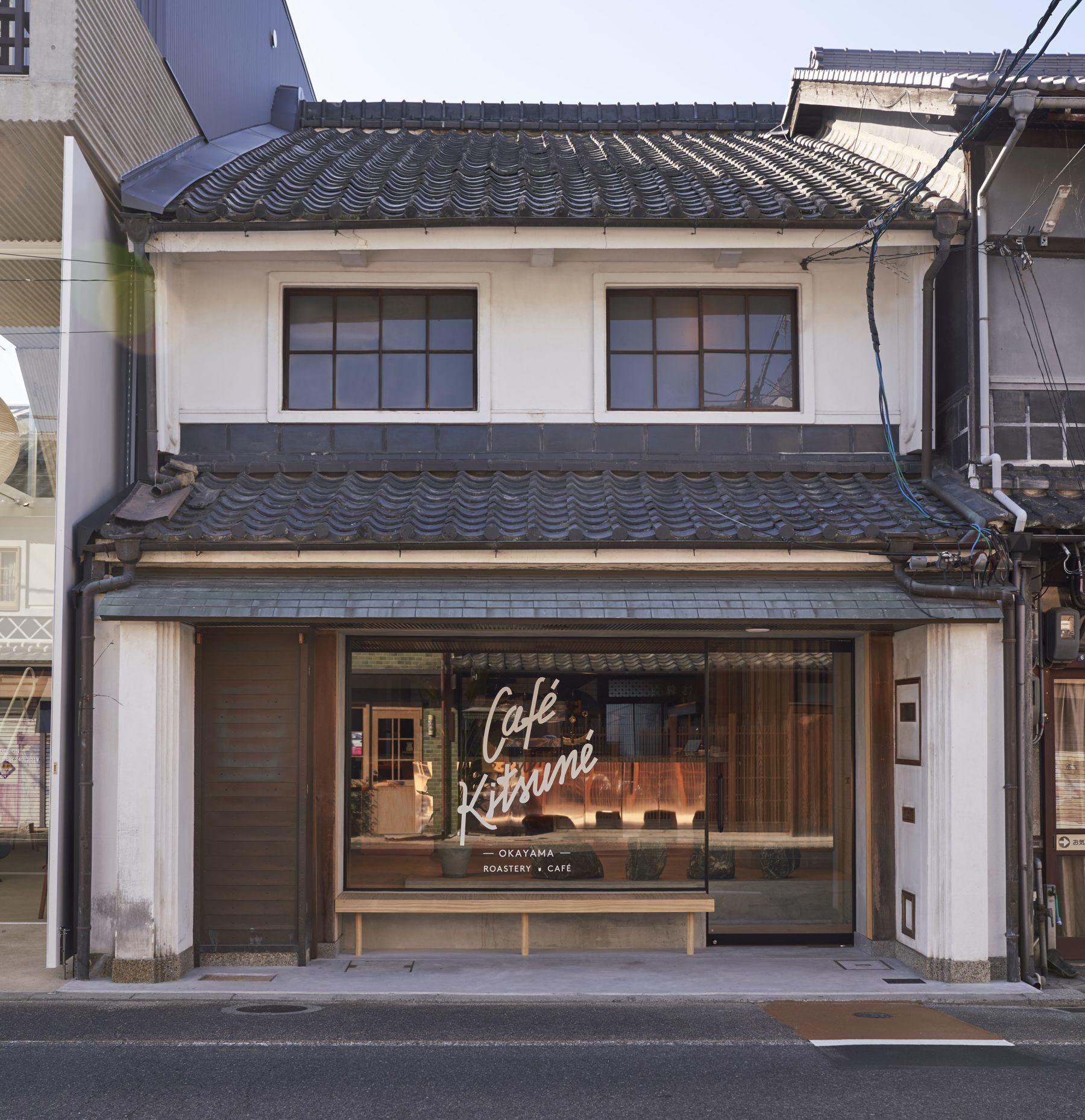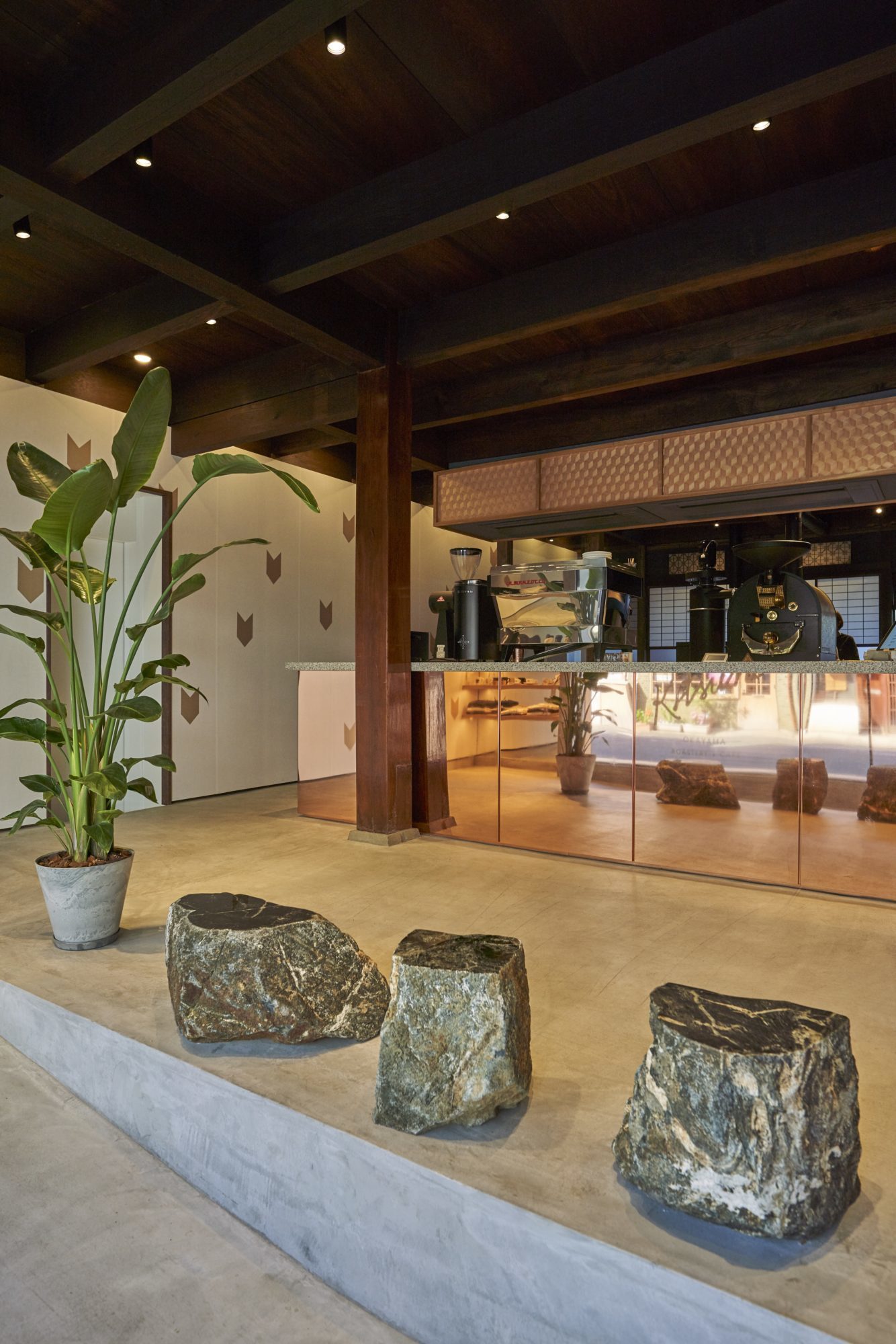 The Café Kitsuné playlist by Kitsuné Musique
Here's the perfect soundtrack that represents the lounge and casual atmosphere that everyone is looking for at coffee time. Broadcast in our Café Kitsuné.
Café Kitsuné
FRANCE
Café Kitsuné – Paris Palais Royal
51, Galerie Montpensier,
75001 Paris
Tucked away in the gardens of the Palais Royal is the first Café Kitsuné in Paris,
which opened its doors in 2014. With the arrival of spring, the terrace has reopened, join us and come taste our new treats at Palais Royal garden.
Café Kitsuné – Paris Tuileries
208 rue de Rivoli,
75001 Paris
Nestled under the arcades of the Rue de Rivoli and just across from the Jardin des Tuileries, Café Kitsuné Tuileries has opened in August 2019.
Café Kitsuné- Paris Louvre
2 Place André Malraux,
75001 Paris
Café Kitsuné now has its first café-bar-restaurant, just steps  from the Palais Royal gardens, the Comédie-  Française theatre and the Louvre museum.
Open all day, everyday, from 8:30am to midnight, Café Kitsuné Louvre is a modernist reinterpretation of the classic Parisian bistro.
---
JAPAN
Café Kitsuné – Aoyama
3-15-9 Minami Aoyama Minato-ku, Tokyo,
107-0062, Japan
It was in February 2013 in Tokyo, not far from Omotesando in the Aoyama district that Café Kitsuné opened its very first café. Since then, the space moved to a new location just steps away from the Maison Kitsuné Aoyama bou- tique, unveiling a completely revamped interior design and offering.
Café Kitsuné – Okayama
1-6-6-2 Izushi-cho Kita-ku Okayama-shi Okayama,
700-0812, Japan
We are proud to present our very first roasting workshop-coffee: welcome to Café Kitsuné Okayama in Japan.
Café Kitsuné – Kyoto ShinPuhKhan
Karasuma-dori Anekoji, Nakagyo-ku, Kyoto
586-2 Baanomachi 586-2 Shinpufukan, bloc 106, Japan
The café offers a view of the beautiful Japanese garden designed by Kengo Kuma. This is the first time in Japan that MAISON KITSUNÉ and CAFÉ KITSUNÉ will be combined in a single store.
---
SOUTH KOREA
Café Kitsuné – Séoul
23,13 Gil, Dosandaero, Gang-nam gu,
Seoul, Korea
Last October 2018, the Paris-meets-Tokyo brand's new South Korean home has welcomed a Maison Kitsuné boutique and a Café Kitsuné, located on Garosu-Gil in the Sinsa-dong area.
Café Kitsuné Séoul
3F Hyundai Department store,
20 Pangyoyeok-ro 146beon-gil Bundang-gu,
Seongnam-si Gyeonggi-do, Korea
Located in Seongnam's favorite district of Pangyo, join us to discover our collections while tasting the tasty pastries of Café Kitsuné and the drinks prepared by our baristas.
---
 UNITED STATES
Café Kitsuné – New York
550 Hudson Street NY 10014, New York
We are proud to announce the opening of our very first kitsuné café in the West Village area of New York City.
---
CHINA
Café Kitsuné – Shanghai
Unit 104-105/204, Bldg 5, Lane 123,
XingYe Road, Huang Pu District Shanghai, China
Located in Shanghai's Xintiandi shopping mall, Maison Kitsuné opens its first boutique and café in Shanghai.
---
THAILAND
Café Kitsuné – Bangkok
The Emquartier, G Floor, 10110 Bangkok, Thailand
Located in a shopping mall in Bangkok, Maison Kitsuné is opening a boutique as well as a café.