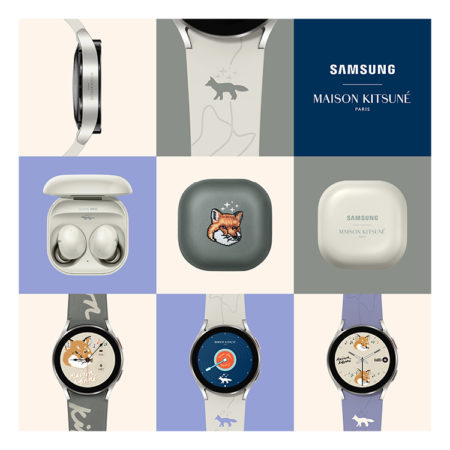 「Galaxy Buds2 Maison Kitsuné Edition」
11月9日(火)予約受付開始
11月20日(土)台数限定発売
「Maison Kitsuné」とモバイル製品のリーディングブランド「Galaxy」は、コラボレーションした最新スマートウォッチ「Galaxy Watch4 Maison Kitsuné Edition」と最新ワイヤレスイヤホン「Galaxy Buds2 Maison Kitsuné Edition」を、Maison Kitsuné一部店舗(青山店、大阪店、京都新風館店)にて11月9日(火)より予約受付開始、11月20日(土)より台数限定で発売(*)いたします。
* 予約受付期間に売り切れとなる可能性があります。ご了承くださいませ。
※Galaxyの販売店舗はこちらよりご確認いただけます。
What do you get when a multi-faceted lifestyle brand joins forces with tech? Wearable devices that showcase your personal style.
Reimagined products. Creative synergy and spirit. By embracing openness, Samsung and Maison Kitsuné go beyond the ordinary with their new collaboration—the Galaxy Watch4 and Galaxy Buds2 Maison Kitsuné collection.
By putting fashion and music front and centre, these wearable devices encourage authentic expression and a rich imagination.